Recruitment
Learners are recruited with integrity to London Bridge Courses. We offer programmes from Entry Level to Level 5. As part of our recruitment process we market our courses online, via marketing and advertising agencies, external advisors and educational consultants and course listing catalogues. All initial course information contains the Course title, and basic details such as duration and level.
Learners are signposted to our Course Information Pages (CIPs) which contain a detailed breakdown of each course. The CIPs include the following key details:
Entry Requirements and level of English required
Full title of the qualification and Awarding Organisation accreditation
Number of total qualification and/or guided learning hours
Overview of duration
List of units
Description of assessment approach
Progression routes
This will help and support prospective learners to consider whether the course meets their needs, educational requirements and career goals. Prospective learners can also contact our Course Information Line to speak to an advisor who can answer questions, respond to queries or clarify any aspects of the programme. This can be via online chat or telephone.
Applying for the course
Learners will submit an application form, which also contains an Initial Assessment. This is accessed via the London Bridge College website, and submitted online. This is reviewed by the Centre Manager, by allocating it to an appropriate reviewer, and a decision is made whether or not the learner meets the requirements for the programme.
Identification Verification
The learner must then pass through Identification Verification. This is the process by which the college confirms the identity of the applicant, to ensure that they are genuine. They are required to submit formal documentation, and this is matched against a live picture of the learner. This is then used throughout their time on programme to verify each assignment submission is authentic. London Bridge College use a specialist ID verification service to perform this function.
Enrolment
Following successful application and Identification Verification, the learner is then enrolled onto the London Bridge College Learner data system via Moodle and can access their course, once the first instalment of their course fees are paid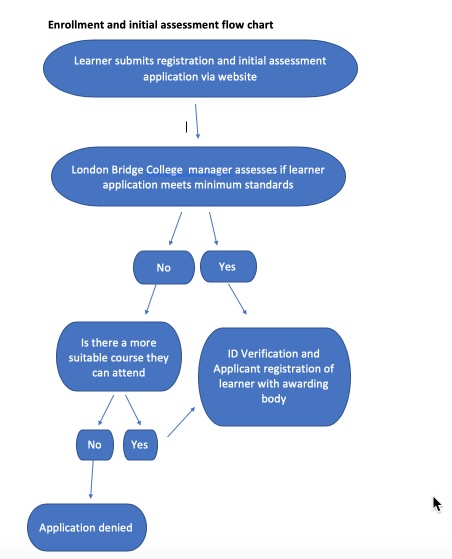 The Application and Initial Assessment form
A link to the form can be viewed below. This is the form that the learner must complete to be accepted onto any programme.
Registration and initial assessment form
Last update: September 2020, Review: August 2021